Today I 'm introducing you to Morris the cowboy.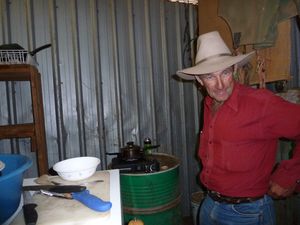 Morris is one of the pub's regulars, always smiling and joking. He agreed to an interview, a première for both he and I.

One Sunday afternoon Morris picked me up from the pub, first stop his work where he had to swap horses. I didn't take pictures of his workplace, Beef City, as it is prohibited. Then he drove me to his place, a former stables (incidentally belonging to my boss' mum).

There he demonstrated his training skills for me. He rode Einstein, who had just returned from several months in the wild in an area, located about a hundred miles from Aubigny and who needed to be broken again. Then came my turn to ride a pony, Chocchip, but my cowgirl s' skills are very limited and he had no saddle that he could shrink enough to fit my legs >< One day I'll grow up .....
Afterwards, little visit of the premises, small coffee while enjoying the view and here we go:


There you go Morris, present yourself to my many readers in France and elsewhere:
Hi! I'm Morris!


Uh ... what else? You're kind of a cowboy right? Apart from the Lucky Luke comic strips we don't see many of them back home.
I 'm "pen rider" kind of a cowboy yes, if you want. I work in the City Beef feedlots and watch over 26,000 head of cattle (my eyes widen, 26 000?) . He laughed and told me that these numbers have nothing really exceptional, especially to him, because in the Territory, he looked over 36,000 heads ....


What does your job consist in then?
I need to ensure that there are no sick or injured animals in the pens, or even too fat to get up. We are lucky here, I remind you that we don't have foot and mouth in Australia!
I see, but I still find it ironic ensuring the welfare of cows awaiting slaughter.


And what's your roster like, what are the necessary qualifications?
The only qualification is to know how to ride, to have your own horses and saddles.You must be willing to work whatever happens, even in pouring rain! And no sick leave, we are just 2 teams of 4 people who cover the day. We work 10 hours a day, 8 days on, 6 days off.


So, what is your typical day?
Wake up 3.30 AM ,coffee,getting ready and fixing the horses. Must be gone by 5.00am.

Get to work, feed the horses, and saddle them

6.00AM start till 9.30AM for smoke break and lunchbreak at noon

At 5.00PM I knock off

I take care of my horses till about 6.00pm

Then I go down to the pub, being a bugger (he puts on his "but i'm a good kid" smile)

After a few beers, go home, fix the horses and if there is still daylight enought, ride a bit

Little dinner
Bedtime at 8.30PM


Waw, that's really early, just being curious, what's a sleep in for you?
Sleep in? What's that? (he laughs) 6.00AM.


How long have you been a pen rider for?

For 16 years, but I worked in the Northern Territory stations before that. I even took the helicopter to go from one side of the paddock to the other (ok, I've heard it since I got here, Australia is huge!)


And during all this time, have you ever had an accident?
Yes, a steer (note: they weigh 850kg) broke my ankle. Generally in the job accidents are mostly caused by horses falling over.


Do you have everything you need Vanessa, any other questions? Was I good? Was it interesting? (As always he is being cheeky).

All good Morris, cheers!


Then he took me back to the pub, we had a few pots. He then left to go back to the shed, take care of the horses and have a sleep before starting on a new working week.