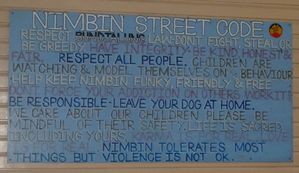 Have you ever heard of Nimbin, in the northern New South Wales? It is THE hippie town in Oz. this township I'd rather stay as been stuck in the 70's. All is colorful and it is all about community lifestyle. Drugs are illegal in Australia yet, cannabis lovers have been meeting up there for over 50 years: Nimbin is kind of an Amsterdam and happy cookies can be tasted, or so I've heard….
This weekend MardiGrass was on in Nimbin. I've made it short here for my English readers, as I don't need to explain you about the "hidden" wording twist.
The program will include cannabis legalization, concert, protests… As I wasn't born, do not this assessment for granted, but in my mind, this I how Woodstock would have looked like. I'm putting you the link to my photo album so that you can tell me whether or not I am mistaken. By the way, I invite all my readers who were born in the 70's to write in the comments section, just to know if I am wrong, or right… Part of me wonders if I shouldn't have gone there, regardless of me working for accommodation or various bad or good reasons making that I didn't' even consider it before it was too late….