Following some of your requests, I will now share with you some typical aussies' recipes.
The first one, will be a dessert which I tried while invited at a typical BBQ in Kingscote with lovely aussies.
Please welcome the Queen's Pudding recipe.
you'll need 7 eggs (yolks and whites separated), 1L + 450ml warm milk, 1/2 loaf of yesterday's bread without the crust reduced to crumbs. about 4 TS of sugar few drops of vanilla essence, your favorite jam flavour. One dish suitable for bain marie in the oven.
Soak the bread crumbs in the 1L milk.
Mix the egg yolk with 2 TS sugar and stir well, then add the remaining milk.
Mix both preparations and pour into the dish.
Slowly cook in a bain marie in a low oven for about 35 min, it shouldn't color. Then remove from the oven.
Whisk the whites and remaing sugar until firm, to make a meringue.
Spread the jam over the pudding, cover it with the meringue, put in the oven until colored.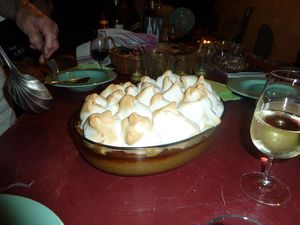 The ideal way to serve it is warm with cold cream. Enjoy ^^